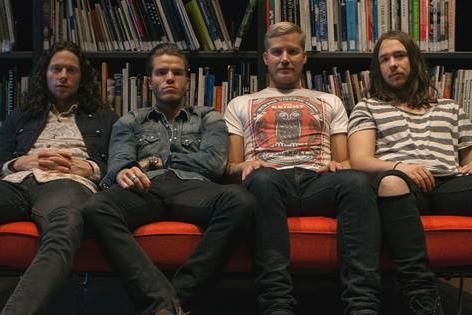 Kaleo, which means "the sound" in Hawaiian (as Google unerringly told me), hails from a suburb near Reykjavik, Iceland. Which means your brain might automagically connect them with Of Monsters and Men. But on this single Kaleo gently lays down the divider like you would for fellow shoppers at Whole Foods, and marks a territory that's light, but more melancholy than their peers.
"All the Pretty Girls" deserves an instant promotion to your permanent playlist. However, it is a little disconcerting when Kaleo admits in their SXSW interview that the promotion single is very different from what they typically sound like. I've had a few soured sets at SxSW when the expectation drifts far from the reality. The lyrics aren't the strongest. If I'm being literal, line after line of "Won't you lay me" recalls scenes from high-school classrooms with pheromones oozing out of teenagers, jarring in light of the beautiful atmosphere of the song. Look past it (and it's easily done), their sound is enjoyable.
Kaleo starts their SXSW at the ever cozy Lamberts at 11pm on March 18th.